© Copyright 2010 - 2023 Psychkwondo

A few words from some of our members who have kindly found some time to tell others a little of their time at Psychkwondo.


Dear Simon and Amy,

I figured it was time for me to write to you.
Recently I obtained my black belt. For so long I saw this as my goal- I remember starting Taekwondo, and training in Psychkwondo and thinking, "Wow... I want to be that good. I want to show that I'm not just some book worm who's only good with a pen..." And I think I'm nearly there- when I first got my black belt, I thought, "I've achieved it..." and to be this is the common mentality, but then I realised, "No... I have a long way to go. I want to be the very best- the best I can physically and mentally be."
Since starting taekwondo (and I refer that as joining Psychkwondo as I've never trained under any other club, why would I want to?) I've overcome issues that people would simply say 'take three of these a day for the rest of your life and you'll be right as rain.'
Rather than spiraling downwards I was placed in the situation where I was given to chance to speak with you[Simon and Amy] about having anxiety issues with no reason.
Since coming to the conclusion that I will not let it beat me, I dedicated myself to Taekwondo and in all honesty, I haven't had issues since.
Psychkwondo is an amazing atmosphere in which I can live. My life revolves around school and training, some people think I'm crazy or obsessed, and I probably am, but taekwondo is something I truly love, it's something I'm passionate about.
It's given me the confidence to be who I am and to not conform, with Simon's... blunt(?) whilst humorous personality he's really created an atmosphere where we push ourselves to our limits, learn new things and improve our mentality. It truly is an empowering and friendly place to be.
I've competed inter-state, nationally and internationally. At first I didn't enjoy sparring, it was something I initially resented, but now I love it. I love the idea of going into the ring and giving it my 100% and not getting upset- I think that my initial dislike for sparring was because I was scared of giving it my best and the fear of injury... But... In all honesty- we don't get that many serious injuries in Taekwondo and fear is pointless if you don't give something 100%...

It's clear that you both [Simon and Amy] have a clear and deep understanding of sport, the 'real world' and the psychological side to everything we do. I don't want to sound like a teenage fan-girl, but this also adds to the positive atmosphere in Psychkwondo, you both are able to give a clear and easy-to-understand, whilst honest explanation of things to help us learn and become better.
Through Psychkwondo I've learned that the mind is the most important thing. With accomplishing my black belt I've started teaching, through this I've learned a lot and plan to continue to learn and contribute as much as I can to Psychkwondo.
In Pauline's words, "Dedication of time and commitment to the task display respect..." I have every intention to dedicate as much to the club as possible, defining my respect for the great instructors that we have inside of our small community.

Sincerely,
Matt Davis, 1st Dan Black belt. (: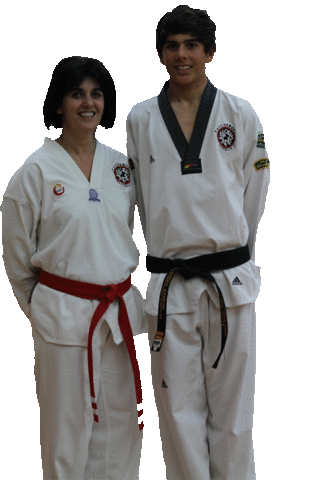 Simon and Amy,

I wish to voice my gratification and appreciation in the way you both conduct Psychkwondo classes.

My son Trent and I travel up to 6 hours a week from Terrigal (Central Coast) to the Hills District to train with Psychkwondo as we really feel part of the Psychkwondo family.

I had been watching Trent's classes for over 6 years prior to Psychkwondo and I must say since joining Psychkwondo he really has learned a lot more about the philosophy/terminology of Taekwondo. As a parent I think the student needs to understand; why they do what they are doing. You both spend a lot of time with each of your students on every aspect of the class whether its learning patterns or correcting a certain technique.

I am so glad that I made the decision to join Psychkwondo as well.

Keep up the great work you both do as your commitment to the club and your students exceeds expectations.

- Anne Parker
Terrigal NSW

Dear Amy and Simon,

Ethan is really enjoying learning Taekwondo. He is having a great year at school this year. He is a lot more confident. I have seen a real change in him. He takes the broken wood into school for news. The other kids are very impressed that he is able to break the wood.

- Sharon
Glenhaven

Dear Simon and Amy,

Our family first become involved with Psychkwondo through friends who were already members. Simon (our son) was the first to join in an attempt to give him some confidence and improve his self esteem. Our Simon was hooked from the start, we began to see results straight away.

His 2 sisters and I looked on for quite a while, we decided rather than sitting on our backsides and watching him we should get involved as well.
We joined in and together feel we have become a part of the Psychkwondo family. I congratulate Amy and 'BIG' Simon on their patience with us, and thank them for their good humour and understanding when things don't come so easily to an older student such as myself. It just goes to show... "you're never to old to learn something new".

We have learnt so much, not just about Taekwondo as a sport, but about respect for one another, good manners and having fun together as a family.

- Gail
Baulkham Hills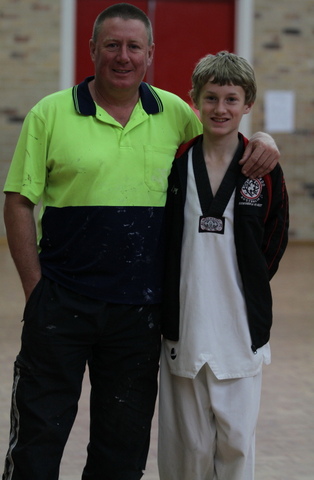 Hi Amy & Simon,

We would like to express our thanks to you both for being such wonderful mentors for Jay.

Jay changed clubs and has been with Psychkwondo for over 3 years now and has enjoyed every minute. There is a true sense of camaraderie between everyone at the club. You lead by example teaching the philosophy and terminology of Taekwondo and make every student feel special. Your confidence, patience, ability to bring out the best at the same time insisting on discipline and respect is a credit to you.

Taekwondo is a great character builder and has given Jay a quiet confidence in himself.

Jay and many other students have been successful in State Championships and this is a tribute to your excellent training and encouragement.

All the best for the future.

- Jeff and Lea-Ann Laughton
Glenhaven


​Dear Simon and Amy,

I thought that you should know just how much Psychkwondo has done for our family and how grateful we are to be involved in such a wonderful club.

Matty (aged 6) has Gross Motor Delay and Speech Delay amongst other small issues and it was suggested to me that Martial Arts could help him. He started Kindergarten this year and I was worried that he may get picked on due to these issues. I should not have worried as his confidence, over the year, has grown substantially and this has really helped him academically and socially. He is such a happy little boy and gets so excited when he knows that it is time to go to training. He started sparring class this year after much pleading with me for weeks and once his gear arrived it was hard to get him to take it off!

Ellise (aged 8) has been bullied every year since she started school by different kids. She had lost her confidence and was really sad. A few months after starting with the club, she started to change. The bullying stopped as she grew more confident and she is a different child now. She is happy, outgoing and loves school again! She enjoys learning her patterns and has developed some wonderful friendships with a few of the girls in the class. She really admires the older kids and wants to be just as good as them.

I had major surgery last year that was life changing and having seen the changes in my two gorgeous kids, I decided to give it a try as I wanted to get fit and try to alter certain aspects of my life. Amy, Simon and all of the trainers and club members made me feel very welcome. As a very unfit mother who hadn't trained for many years, I felt awkward and embarrassed as I found it difficult to keep the pace but everyone encouraged me and made me feel like I belonged there too and that made such a huge difference to me. I have now been a member for 9 months and my fitness and body strength has increased. I found that making time for myself and doing something that I love has been life changing. Psychkwondo is not only good for the body; it's good for the mind too. My only regret is that I didn't join sooner!

Thank you Simon and Amy for everything that you have done for my family and me. You make a difference and for that, I am extremely grateful.

Frances x

A quick testimonial

​​I always wanted to do a martial art and had given up on this idea as an older person. I was introduced to Amy and Simon our Head Instructors and Psychkwondo and have never looked back. As a mature adult I have not only challenged myself physically but mentally and developed confidence and a new approach to life and living that is positive healthy and fun.
I highly recommend Psychkwondo to all ages, you will learn and grow in a safe supportive and positive club regardless of previous experience or how old you are

See you soon
Pauline
Hi Amy,

Our family really enjoys your lessons.
I knew your classes we right for us when my inexhaustible 5 year old exclaimed after her first class "Mum, I'm tired!"

Woo Hoo!Psychkwondo is so much more than just another sports lesson.

Last year I spent a fortune sending my eldest daughter to Manderin lessons, after a year all that she had learnt was to say was hello! After just a few lessons of Psychkwondo my girls are confidently counting to 10 in Korean while working through their patterns.

As a parent I was thrilled to hear Amy teach the children about eye contact as a sign of respect when someone talks to you; and asking the children how they would feel (empathy) if someone spoke to them and there was no reply. I have a 12 year old step son with Aspergers syndrome and behaviours like eye contact when being spoken to are not automatic for him, they have to be learned. As adults we expect certain kinds of behaviour from our children forgetting that they have to be taught and are not just innate. There are many rules that humans use to navigate their world and it can be confusing and stressful for children, Amy approaches simple life rules, like respect, diligence etc in a gentle caring way which compliments my job as a parent. I would be happy to send my children to Amys classes even if they didn't do Tae Kwon Do!

Children are taught respect for elders, each other and for themselves. Good behaviour and hard work are positively reinforced. Watching the class there is a real sense of team unity and it is lovely to see the children praising each other for individual accomplishment.

My son has never been keen on activities, especially team sports but we gave psychkwondo a go on the recommendation from another friend. We have not looked back. My son loves his class and we are very happy with the skills he is learning and the improvements to his physical fitness. His teachers are caring and fun and run a very well disciplined class. As an added bonus we have witnessed how psychwondo influences the children's sense of responsibility and maturity with the older students impressing us with their leadership and assistance with younger students.

We could not recommend Psychkwondo highly enough!

Renae Cole


Psychkwondo has bonded our family in a positive and energetic way beyond our expectations.
​We have been welcomed from the start, and now the majority of the family have enjoyed the
​benefits of Psychkwondo, and for that we are grateful for changing and improving our lives.
​'Thank you Psychkwondo'
​
Thanks again :-)
Br Konrad
I enjoy the training sessions, they are fun and I am always learning something new, making my mind and body stronger. I have made many good friends through Psychkwondo. Evie Hogan


The coaches work us hard but it's paying off. I am working hard at being the best person I can be and Psychkwondo is really helping me achieve my goals.

​​Georgia Hogan



Dear Amy and Simon,

Thank you for always delivering a high standard of training during your weekly sessions and sport days. My son loves coming every week and participating in all aspects of taekwondo training. I love the respect and discipline involved and all staff are friendly and professional at all times.

Regards,

Sarah Stanley

We have watched our son, since starting Psychkwondo evolve.
His confidence, his strength of body and mind, his fitness levels and commitment have
​i​ncreased dramatically.

In the first 9 months we started to see a huge improvement in his progress at school
​particularly with reading, comprehension and spelling. He is using concentration, focus
​and memory skills learnt at Psychkwondo in his school work which has absolutely amazed us.

He has become passionate and determined and loves attending his weekly classes.
​He has made a lot of friends and talks with admiration about other members on higher belts.

We are very impressed by the training methods, the values, the emphasis on teamwork and the members of the club as a whole. The help and guidance given from Amy and Simon has been outstanding. We are very proud to be associated with this club and recommend it whole heartedly.

Fiona Tiley


Psychkwondo has not only taught me self defence but it has also improved my lifestyle in many different ways. ​ It has improved my flexibility and fitness greatly, I have made many friends and I now enjoy fighting in tournaments every now and then to try out the new techniques that I have learnt. Taekwondo has helped me with other sports I play as it has built up my stamina and speed. At Psychkwondo, everyone earns their belts, it's not just given to them which makes us proud of our achievements and we always work hard to improve.

Bianca Gomes​​

My family absolutely recommends Psychkwondo! Our youngest boy started learning Taekwondo with Amy about 3.5 years ago, when he was 7. He has always enjoyed it, and all the regular push-ups, sit-ups and other physical exercises they do every class really keeps him fit. A couple of years later my two high school children - 15-yr-old boy and 13-yr-old girl - were looking for an additional sport to keep them fit in high school years, and decided to try out Psychkwondo. They ended up simply loving it, and are always so energetic and excited after every class! My kids are very happy about always learning, always progressing every class towards personal goals at Psychkwondo. The coaches Amy and Simon both have a very clear idea of where each child is at, where they need to go, and what they need to do to get there. They are both very professional, always gentle but firm, and as parents we find them to be truly professionals at Taekwondo coaching. They are great models of self-discipline, respect for others, determination, and always doing one's best, and we see the kids picking up these qualities through the years too. Based on our personal experience, we would definitely recommend Psychkwondo for all children of all ages!
​
Patty​
Meet Simon and Amy, Head Instructors at Psychkwondo
Australia.

​
With their commitment, enthusiasm and vast knowledge about
many areas of Taekwondo,
​they create a wonderful learning
environment that allows all ages and people from different walks
of life to thrive and get the best out of this fantastic sport.
In fact Amy and Simon teach us that Taekwondo is much more
than just a sport; it is a discipline,
​and a way of life.
They teach us that in order to train the body we must first train
the way we think.
We are taught to always try our very best and to put in 110%
every training session,
​and are encouraged during each class to
do this.
Amy and Simon aim not just to improve our taekwondo skills,
but to increase our fitness and flexibility, and confidence within ourselves.
We are taught that confidence is the best form of self defence, and hence Amy and Simon
​try to build our confidence to allow us to believe in ourselves. Amy and Simon are always willing to go the extra mile to help out each individual student, sharing their knowledge and experience to develop a positive and respectful way of teaching.

​The Psychkwondo club is a fantastic one to be a part of, and this is due to the all hard work and care our head instructors Amy and Simon continually put in. As a member of this fantastic club, I am proud to say I am a student of Amy Bodziony and Simon Taite.

Thank you for everything you have taught Zander.
His confidence improved tenfold when he started taekwondo and for that I am very grateful.
Your passion for the sport and the wellbeing of your students sets you apart from the rest, and I have only positive things to say about the way you operate your business.